A photo opportunity.
Rod Bland, Continuing Studies Student
As a successful freelance contractor working in film and television visual effects, Rod Bland had the luxury of asking himself the question: "If I could choose to do anything, what would it be?" Feeling that his job wasn't providing him with the creative outlet he was looking for, he decided to transform his hobby – photography – into a career change. Rod joined the Continuing Studies Photography Program at Langara, and immediately started turning heads with his unique perspective and creative talents.
"I really appreciate getting a 'hands-on experience' and decided I wanted to take some courses to improve my knowledge. I was also interested in learning more about the photography community, and perhaps gaining some insight into working in a phenomenally saturated and competitive industry. I was lead to the program for a few reasons: I loved the flexible evening and weekend hours and the course selection, and I'd heard good things about the program in general. It seemed like a good place to start."
It was more than a good start, though. Rod's creativity behind the lens led to several awards in both student and professional competitions. In March 2013, he received an Applied Arts Photography and Illustration Award for his image Sarah with Clothesline and Spacesuit (shown as cover image here). His concept for the award-winning entry was to find something "beautiful, interesting, and dangerous" in the mundane – an idea that could be an allegory for Rod's innovative approach to image-making. Since then, he has gone on to win further awards from both Applied Arts and CAPIC (the Canadian Association of Professional Image Creators), as well as three honourable mentions in the internationally renowned Prix de la Photographie Paris competition.
"This process was very intentional and dates back to a suggestion in the business practices course I took in 2012 – that entering reputable competitions (and hopefully getting recognition) is actually a pretty effective and economical way to get your name out there. Working on some more logistically difficult and ambitious projects keeps my technical and conceptual abilities sharp, and having these competitions is a nice 'icing on the cake' way to be accountable."
Rod modestly credits his success to the thriving community that surrounds Langara's CS photography program. 
"The students in the CS program come from a huge variety of backgrounds, with quite a disparity of ages and abilities. I find the passion and improvement in others to be pretty inspiring, so they made the experience a whole lot more fun and interesting than it already is. I made a lot of friendships here."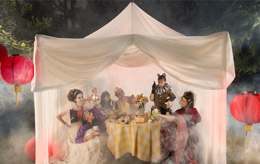 See related stories:
Share this story Tweet about this
Posted on: March 21, 2013