Nursing on the world stage.
Pat Woods, Assistant Chair - International, Langara School of Nursing
Building a successful international nursing-exchange program is a marathon, not a sprint. It is something that Pat Woods knows well, as the first Canadian woman to cross the finish line at the 2013 Marathon des Sables, a 250 km ultra-marathon across the Sahara Desert, and as the Assistant Chair - International of the Langara Nursing program.
Her passion for global citizenship has led her to create opportunities for international nurses to gain Canadian experience as well as for Langara nursing students to gain global experience and perspective. For example, her work with the Royal Institute of Nursing in India, gives Langara nursing students opportunities to gain valuable international clinical practice experience. In 2013, the first group of Langara Nursing students spent five weeks in community health centres in Jaito Sarja, India.
"In India, Langara student nurses visited small rural villages, where they could learn the health care procedures and protocols, observe how things are done and share how we do things," said Pat. "The villagers proudly showed off how they provided health care. Our students were able to enhance their understanding of health care in another country first-hand, not just from a text book."
Pat's vision is to continue to develop international faculty, student, and knowledge exchanges. She is currently working on developing connections and eventual partnership agreements between Langara and educational institutions in several other countries, including Kenya, Uganda, Brazil, and China.
"I need to grow and change intellectually – and there are lots of opportunities to do this in my role. Thanks to Langara's Innovation Fund, we are developing International Practical Experiences for our students. Langara nursing students are able to engage with an international community of nursing students and gain insight and perspective on global healthcare issues. As an educator, I find it both stimulating and rewarding to see how much the students, the faculty, the educational organizations, and the community all benefit from these international experiences."
"Over the six days I was running in the desert for the Marathon des Sables, I had a lot of time to think and so, of course, I thought about global issues. I came back from that race even more determined to effect change in the world. My sincere hope is that we can improve lives around the globe through our efforts at Langara."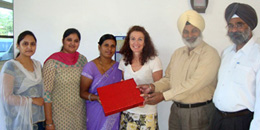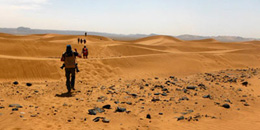 See related stories:
Share this story Tweet about this
Posted on: November 19, 2013