Advocating for community.
Randy Robinson, Aboriginal Studies Alumnus, Outstanding Alumni Rising Star Award Recipient
Randy came to Langara as a mature student after spending years in his community working for a variety of charities, mainly focusing on HIV/AIDS prevention and awareness. He quickly emerged as a leader of the College's Aboriginal student community – Randy is Algonquin from Timiskaming First Nation – taking on the position of Aboriginal Liaison for Langara's Students' Union. His commitment to community is evident in everything Randy does, and after completing his Associate of Arts Degree in Aboriginal Studies at the College, he transferred to the UBC Law School to pursue his dream of becoming an Aboriginal-rights lawyer.

Randy's outstanding academic performance at Langara earned him an Irving K. Barber Scholarship, and he was awarded the Shirley Joseph Memorial Scholarship for his kindness and contributions to the College's First Nations community. He also received the Carole T. Corcoran award for high academic standing and reconciliatory leadership. His stellar academic record earned him the designation of Chancellor's Scholar by UBC prior to his transfer. Randy is an inspirational example of commitment to others, and his service has left an indelible impression on the Langara community.
"I would recommend the Aboriginal Studies Program to Aboriginal and non-Aboriginal learners alike. The course material challenges learners to grow intellectually and to think critically about Aboriginal issues that affect every one of us in Canada. What I learned at Langara helped me focus my goals and define how I will serve my community in the future."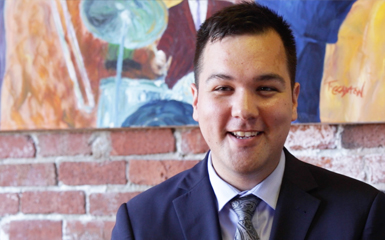 Randy is a recent graduate (2016) of the Peter A. Allard School of Law at the University of British Columbia. During his time at UBC, he was the Chair of Allard's Inaugural Indigenous Awareness Camp; a clinician with the UBC Law Students' Legal Advice program; the Indigenous Director of the Allard Law Students' Society; and was recognized for his leadership activities by the Canadian Bar Association's Aboriginal Lawyers' Forum. While still a student, he worked for the Ministry of the Attorney General of Ontario, the Windsor Crown Attorney's Office (Criminal Division), and the Peter A. Allard School of Law's Indigenous Community Legal Clinic located in Vancouver's Downtown Eastside.
"I chose the area of criminal law because it's an area that touches the lives of many people, particularly indigenous people, who in Canada are over-represented in the criminal justice system. As an indigenous person I can bring perspective and a voice that will lend to aiding and addressing that over-representation. It's the human experience that draws me to this line of work. This is where my heart is."
Randy articled at the prestigious criminal law firm Johnson Doyle Sugarman and Ferguson, and recently passed the bar. He now practices criminal and civil litigation, and is making his dream of becoming an Aboriginal-rights lawyer a reality.
See related stories:
Share this story Tweet about this
Posted on: August 1, 2017