Getting down to business.
Lynn Kitchen, Manager of Custom Training
Ask Lynn Kitchen what she's learned over her 15 years at Langara, and she'll tell you: "Say yes to every learning opportunity that comes your way." It's a mantra that rings true when you consider her typical daily schedule, one that might see her go from the College campus to Vancouver's inner-city, or from boardroom meetings to boarding at the top of Grouse Mountain. Lynn is constantly engaging with her community and connecting Langara with the Lower Mainland.
Lynn has served the College through a variety of roles in her 15 years, including facilitator, lab aide, and coordinator for the Professional Sales and Small Business Program. Her personal growth has paralleled that of the area she currently oversees: the Custom Training Program in Continuing Studies. Along the way, Lynn attained her Certified Program Planning designation and completed her Professional Sales Certificate. Those experiences helped identify her passion for working with businesses and developing innovative training solutions for staff.
"I recognized the unique pool of qualified instructors we had at the College, and started matching them with training solutions that can be provided to businesses in Vancouver. That's when the 'Eureka!' moment was."
Now Lynn might dash downtown for an event with the Vancouver Board of Trade or a luncheon with a prominent politician or businessperson. As the Chair of the Board of Trade's Small Business Council, her team helped develop the Hastings Crossing Business Improvement Association in the city's Downtown Eastside neighbourhood, aimed at creating an inclusive and sustainable economy in the area. 
"There was a doughnut hole in services in an area not covered by the other business improvement associations [BIAs] in the neighbourhood. We worked with many businesses and service providers as well as the community. The Hastings Crossing BIA is different from others because it's very inclusive; they hire from within the community itself for services such as graffiti removal, maintenance, and recycling."
Lynn couples her professional community engagement with personal volunteer work, serving as coordinator for Vancouver Adaptive Snow Sports, an organization that delivers ski, snowboard, and sit-ski lessons on Grouse Mountain to those with disabilities.
"We're teaching to people's abilities. We might have some students that need encouragement and confidence, and some might need more physical guidance. We have some students that have been in the program over several years, and now you see them flying down the mountain with a huge smile! It's an incredibly rewarding organization to be involved with."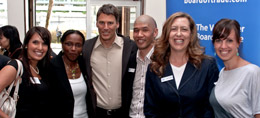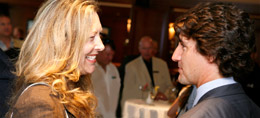 See related stories:
Share this story Tweet about this
Posted on: August 15, 2013