An incredible comeback.
Carling Muir, Alumna
Carling Muir joined Langara to study social work in 2006, and quickly attracted attention as a breakout star of the Falcons women's basketball team. But in November of that year, the talented 6'1" forward suffered a grand-mal seizure after practice and collapsed on the gymnasium floor. She was diagnosed with a rare form of brain cancer and immediately began treatment.
Against all odds, Carling recovered and returned to the court for a standout 2007/2008 season, leading her team to nationals and being named provincial Player of the Year and a CCAA All-Canadian. Moving from strength to strength, she led her team through another outstanding season in 2009, but her cancer returned in November 2010. 


Carling tackled another aggressive round of chemotherapy, and unbelievably returned to the court to play one more season in 2011/2012. Her story of perseverance and determination continues to be an inspiration for Langara's student-athletes.
"When it came to academics, I knew Langara had a great Social Service Worker Program and amazing professors. I was able to experience so many new opportunities through the program, one of which actually led to me getting a full-time job with the Surrey School District. I loved the whole atmosphere at Langara. As corny as it sounds, it felt like a community. They really wanted to see you succeed.
"When it came to athletics, coach Mike Evans was a huge part of why I chose to transfer to the College. It's really hard to put into words how much my teammates' and especially Mike's support meant to me when I was going through treatment. When I was first diagnosed and went through brain surgery, Mike came down to visit me and my family every day for the two weeks that I was in the hospital. He went above and beyond the duties of a coach. Not only did he make me into a better player, he made me into a better person, and I will always consider him a great friend."
"I am so honoured to say that I attended school and played for the women's basketball program at Langara. It has helped shape me into the person I am today, and I am so grateful for that. I will forever represent and be a proud member of the Falcons family."


In 2008, Carling was recognized with the Sport BC Harry Jerome Comeback Award, given to a BC amateur athlete who has demonstrated great perseverance in the face of adversity.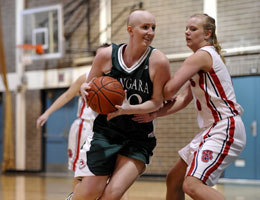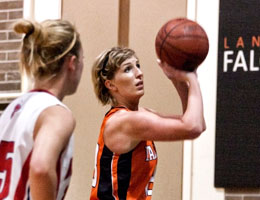 See related stories:
Share this story Tweet about this
Posted on: March 25, 2013